An Ultimate Tourist's Guide to Pulau Perhentian Beach
Every breathtaking Pulau Pehentian beach comes with its unique appeal and allure.
Pulau Perhentian is a charming island with located on the East Coast of Malaysia, renowned for its white sandy beaches, crystal clear water, and exotic sea life. This idyllic tropical paradise is a popular destination for tourists seeking an escape from the hustle and bustle of city life.
Whether you're looking for a peaceful retreat or some adrenaline-fueled water sports activities, there's a beach on Pulau Perhentian perfect for you. In this article, we'll take a closer look at the best beaches on this stunning island and what makes them so special.
Pulau Perhentian Kecil
Long Beach:
Long Beach is one of the most popular beaches on Pulau Perhentian. Its long expanse of powdery sand and shallow turquoise waters that are perfect for sunbathing, swimming and wading.
Long beach is perfect for tourists looking to soak up the sun and fully indulged in an island vacation. Lined with a variety of resorts, restaurants, and bars, it offers colorful tropical experience from day to night.
During day time, you can rent snorkeling gear, kayaks, and other equipment from the beachside vendors and explore the coral reefs just offshore. After sunset, the exciting nightlife kickstarts with lively beach bars performance and fire shows that usually happens around 10pm.
While Long Beach can get crowded during peak season, its stunning beach and range of accommodation selection make it a must-visit destination for anyone visiting Pulau Perhentian.
Coral Bay Beach: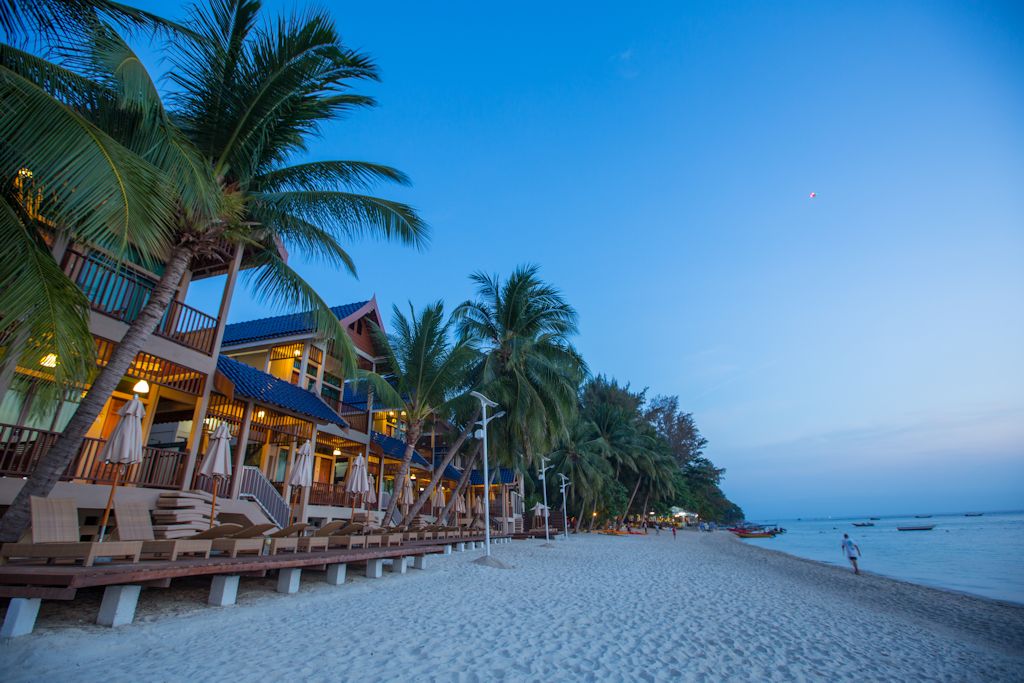 Coral Bay, on the other hand, offers a quieter experience as a Pulau Perhentian beach with a cozy cove and an abundance of marine life in the shallow water. Located on the western side of Pulau Perhentian Kecil, Coral Bay Beach is a more secluded beach than Long Beach.
Overall Coral Bay Beach offers a more relaxed atmosphere and stunning natural beauty. Nevertheless, the beach is lined with a variety of restaurants and bars for those who would like to have all their senses satisfied.
Named after its abundance of colorful coral, Coral Bay Beach is popular among tourists who would like to explore the coral reefs and marine life just offshore. It is no stranger to swim along colorful fish, sea turtles, and even small reef sharks here.
Adam and Eve Beach: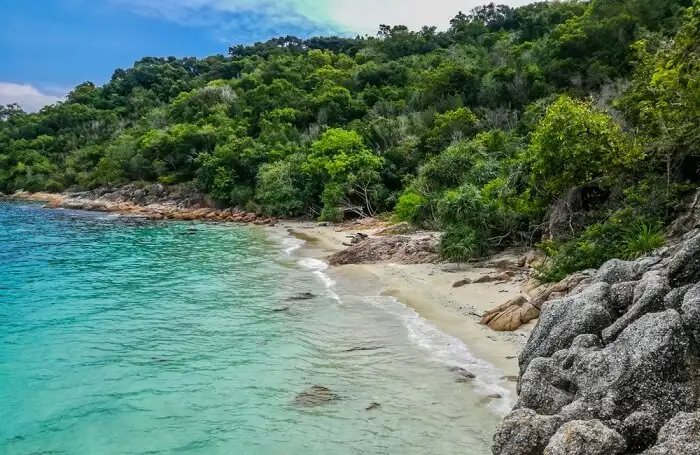 As its name suggests, the Adam and Eve Beach is a secluded romantic beach that is popular among couples. Located on the northeastern tip of Pulau Perhentian Kecil, the beach is only accessible by boat.
Renowned for its pristine white sand and crystal-clear turquoise waters, Adam and Eve Beach suits well for couples looking for a private getaway. The beach is named after a rock formation offshore that resembles Adam and Eve, where the waters around are home to a variety of colorful marine life. While there are no resorts or restaurants on Adam and Eve Beach, it remains a popular spot for snorkelers and divers alike.
Besides that, this beach is surrounded by lush tropical forest, which adds to its natural beauty and provides shade from the tropical sun. Jungle trail is also paved for ones who would enjoy a short walk across the Perhentian beaches.
Nevertheless, this pulau perhentian beach is peaceful and romantic. making it perfect for those looking to escape the crowds and enjoy each other's company amidst the natural beauty of the island.
Pulau Perhentian Besar
Turtle Beach:
You wouldn't want to miss out on the turtle sanctuary during your stay in Pulau Perhentian! This perhentian beach is located on the eastern side of Pulau Perhentian Besar. Named after the sea turtles that come ashore to lay their eggs on its sandy shores, it is a popular spot for wildlife enthusiasts.
Turtle Beach is surrounded by lush tropical forest and waters offshore teeming with abundance of marine life. It is perfect for those who would like to explore marine life through snokerling and diving, or simply to enjoy the sun by the beach under some shades.
Sea turtles are the special guests often featured on this Pulau Perhentian beach. You can spot them swimming in the clear turquoise waters or laying eggs on the beach when it's the season. Even if you missed out on them, the underwater world here could keep you entertained with a variety of colorful fish and other marine creatures.
Although Turtle Beach is a must-visit destination for anyone interested in the natural beauty and wildlife of Pulau Perhentian, it is important to practice responsible tourism when you are here. Contributing to marine conservation can be the tiniest effort by not leaving trash behind and not leaving with anything that belongs to the nature.
Tuna Bay:
Tuna Bay Beach is a picturesque and popular beach located on the western side of Pulau Perhentian Besar. Located in front of Tuna Bay Island Resort, it is rather a secluded picturesque beach for the guests and occasional visitors from other parts of the Perhentian island.
Besides being insta-worthy, the tranquil Tuna Bay Beach offers quality time spent with loved ones. Although known for its laid-back atmosphere, the beach can turn into a lively and vibrant spot with its outdoor activates. Various activities and amenities are available, some provided by the Tuna Bay Island Resort, you can participate in beach volleyball, water sports, and sunset cruises.
Thanks to the resort's effort in marine conversation, the beach retained its pristine condition and filled with rich marine life such as coral reefs, sea turtles and small shark reefs. It is the best spot for sunbathing, strolling, snokerking and diving – everything you'd love on Perhentian island! Tuna Bay Beach is also a great spot for watching the sunset, with stunning views over the surrounding islands and sea.
Visit Tuna Bay Island Resort at Pulau Perhentian!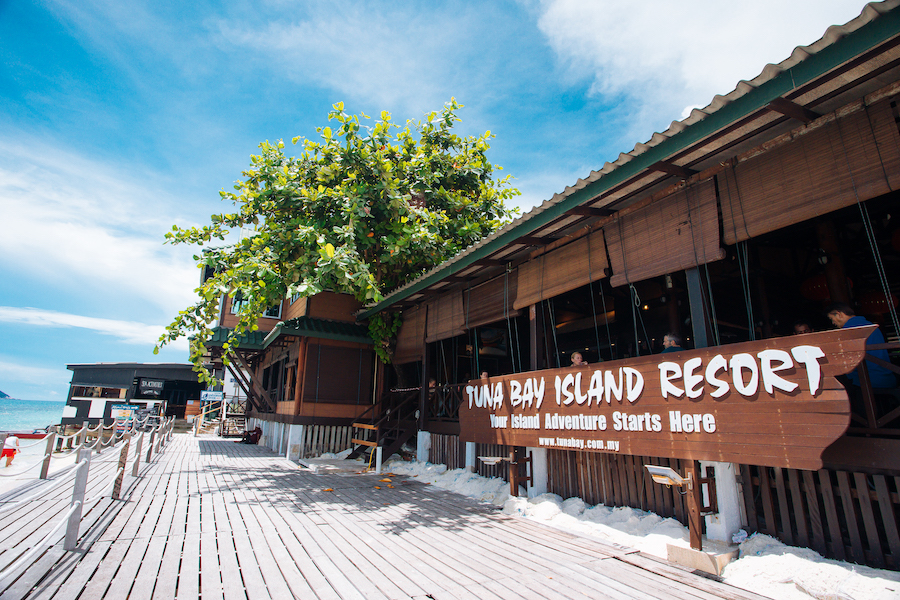 There are many things to do in Pulau Perhentian – snorkelling, scuba diving, fishing and more, as long as you got them planned out well.
Let us help to make the most out of your holiday – check out Tuna Bay Island Resort 2023 Promo & Rates where you can pick a package that suits your interest!
An Ultimate Tourist's Guide to Pulau Perhentian Beach