Your Next Island Getaway in Malaysia: Pulau Perhentian Besar or Kecil?
Located off the east coast of Malaysia, Pulau Perhentian Besar and Pulau Perhentian Kecil are two stunning islands that offer an idyllic tropical getaway. These two adjacent islands are part of the larger Pulau Redang Marine Park, which is well-known for its turquoise waters, white sandy beaches, and diverse marine life. But when it comes to comparing the two islands, there are some notable differences.
Pulau Perhentian Besar VS Pulau Perhentian Kecil: The islands are actually fairly different
Pulau Perhentian Besar, the larger of the two islands, is perfect for visitors who prefer a more relaxed and secluded ambiance. It is renowned for its pristine beaches, calm waters, and lush forested interior.
On the other hand, Pulau Perhentian Kecil is the livelier of the two, attracting a younger crowd and known for its vibrant nightlife, adventurous activities, and a broader range of accommodation options.
Still unsure? Here's a speed round for you to tell which is your ideal holiday destination!
What they said about Pulau Perhentian Besar
Perhentian Besar is bigger in size, obviously.
Perhentian Besar has more luxe vibe and slightly more expensive than Kecil.
Perhentian Besar has the nicer beaches.
Perhentian Besar has the better snorkelling spots.
Perhentian Besar has the more family friendly resorts and chalets.
What they said about Pulau Perhentian Kecil
Perhentian Kecil is more chill.
Perhentian Kecil arguably has better nightlife.
Perhentian Kecil is better if you want to budget travel.
Perhentian Kecil is where most backpackers stay.
So, Pulau Perhentian Besar or Kecil?
It all depends on what kind of vacation you're after as to which island you should pick!
Not to mention, both Pulau Perhentian Besar and Kecil are great for the most essential beach must-do such as sunset watching and sunbathing. Nevertheless, both islands offer a range of activities, including snorkeling, diving, kayaking, and trekking. So, whether you're looking for a peaceful retreat or a fun-filled island adventure, the Pulau Perhentian islands have something to offer for everyone!
Visit Tuna Bay Island Resort at Pulau Perhentian!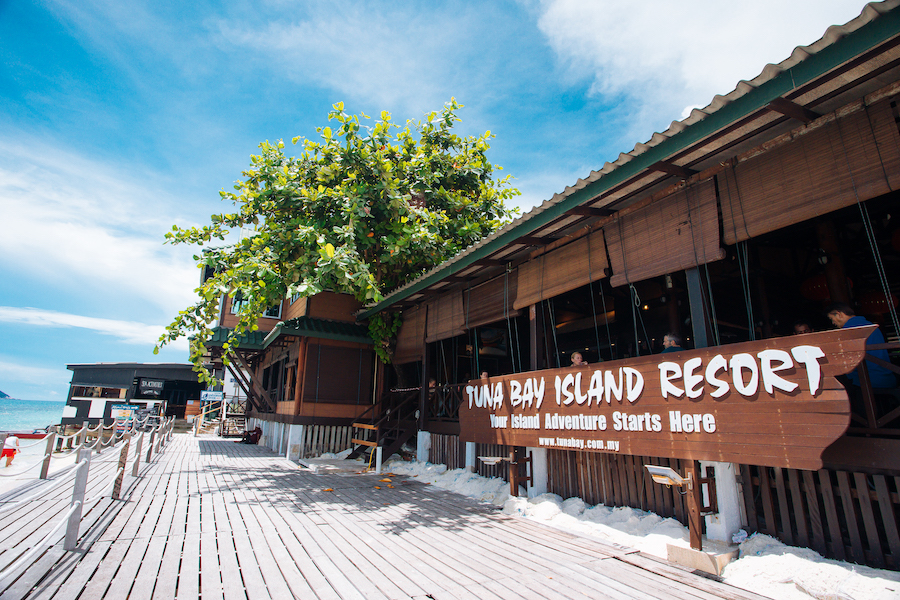 Let us help to make the most out of your holiday – check out Tuna Bay Island Resort 2023 Promo & Rates where you can pick a package that suits your interest!
Breathtaking Pulau Perhentian Besar or Lively Perhentian Kecil?