Planning Your Perfect Getaway: Terengganu Islands for Nature Lovers
Terengganu islands offer an immense potential for tourism in Malaysia due to its natural beauty and cultural diversity. Terengganu islands are known for their vibrant cultural heritage and traditions, including various fishing villages that offer a glimpse of the traditional Malaysian way of life.
With a variety of unique activities to be experienced, such as island hopping, snorkeling, scuba diving, and fishing, Terengganu islands are an attractive destination for both domestic and international tourists. The easily accessible nature of the Terengganu islands makes them perfect for short getaways and family vacations, while the charm and natural beauty of these islands give visitors a chance to escape the hustle and bustle of city life.
Climate in Terengganu Islands
The climate in Terengganu is characterized by two distinct monsoon seasons: the northeast monsoon season from November to March and the southwest monsoon season from May to September. These monsoons bring heavy rainfall and strong winds, making it impractical to visit during these times.
The best time to visit the Terengganu islands is during the dry season from April to October each year, when the weather is bright, sunny, and relatively cooler. During this time, visitors can enjoy the beaches, go snorkelling or diving to explore the stunning coral reefs, and witness sea turtles laying their eggs. Regardless of the period of travel, Terengganu islands offer a wonderful tropical adventure for tourists and adventurers alike.
Popular attractions in Terengganu islands
Perhentian Islands
Perhentian Islands consisted of Pulau Perhentian Besar and Pulau Perhentian Kecil. These Terengganu islands boast of pristine white sand beaches, crystal clear waters and diverse marine life. With its untouched tropical jungles and turquoise blue sea, these islands are a perfect hideaway for travellers looking for some peace and tranquillity.
There are a number of attractive activities to indulge in Perhentian Islands such as snorkelling, scuba diving, kayaking, camping, jungle trekking, and fishing. These activities give visitors an opportunity to explore the marine life, lush forests, and natural beauty of these islands. Moreover, the islands offer some of the best snorkelling and diving sites in Malaysia, with clear waters and rich coral reefs teeming with colourful marine creatures.
Redang Island
Redang Island is a tropical paradise that has managed to preserve its natural beauty with its marine parks and snorkeling opportunities. The crystal clear waters are home to a diversity of marine life, making it one of the best snorkeling spots in Southeast Asia. Visitors can spot various species of colorful fish, turtles, and even some large clams. There are several secluded coves where you can laze around and catch some rays, or go for a dip in the turquoise waters. Overall, Redang Island is a magical place that will leave you speechless with its natural beauty and calmness.
Kapas Island
Kapas Island is one of the must-visit Terengganu islands in Malaysia. Known for its scenic beauty, it is the perfect destination for a peaceful retreat. The island is surrounded by crystal-clear turquoise waters and white sandy beaches, providing an idyllic setting for outdoor activities such as snorkelling, diving, and kayaking. Visitors can indulge in spa treatments, yoga sessions, or simply unwind on the beach with a book. Additionally, the island boasts a wide range of accommodation options, from exclusive resorts to budget-friendly guesthouses.
Bidong Island
(Credit: rohaizad rozali)
Although this Terengganu island has a very rich historical significance, it is now more known for its pristine beaches and untouched nature. It was a refugee camp during the Vietnam War, which also served as a transit point for Vietnamese refugees who were resettled to other countries. Today, it has remained untouched and unspoiled by human intervention, providing tourists with an opportunity to experience nature at its purest. The island's crystal-clear waters and powdery white sand beaches provide the perfect backdrop for visitors to relax and enjoy the serene surroundings.
Lang Tengah Island
(Credit: Mohd Fazlin Mohd Effendy Ooi)
Lang Tengah island is a beautiful and tranquil island located in the Terengganu. The island is known for its amazing underwater world, which makes it a popular spot for diving and snorkeling. The coral reefs surrounding the island are home to a variety of marine life such as colorful fishes, turtles, and even sharks. The island has a small population and is famous for being an eco-friendly destination.
Tenggol Island
(Credit: Star Travel Malaysia)
Tenggol Island is a popular destination for divers and snorkelers due to its crystal-clear waters and diverse marine life. The island is relatively small and uninhabited, making it a perfect retreat for those seeking peace and solitude. It is also a popular spot for fishing enthusiasts, with plenty of opportunities to catch a variety of fish. The island's beaches offer stunning views of the surrounding ocean and are ideal for sunbathing and relaxing. Visitors can access the island via a speedboat from the nearby town of Dungun.
Itinerary for different types of Travelers in Terengganu islands
Island Hopping Tours
The Terengganu islands is a favorite spot for travelers who want to experience a tropical getaway. For island hoppers, there are plenty of boat tours available to explore the various islands and reefs in the region. These tours offer a chance to swim among the colorful marine life, snorkel, and even dive in the clear blue waters.
Sea Turtle Conservation Projects
(Credit: Malaysian Wildlife)
For the environmentally conscious tourists, Terengganu also conducts sea turtle conservation projects, allowing visitors to experience the joy of releasing baby turtles into the ocean. This is a unique experience that sparks a sense of fulfillment for travelers who want to contribute to the preservation of marine life.
Exploring Traditional Villages
For the more culturally-minded, Terengganu offers several traditional villages with unique customs and architecture. The houses in these villages have intricate wood carvings, creating a rich and beautiful appeal that visitors can appreciate. This kind of visit offers a glimpse into the traditional lifestyles of Malaysia and provides an opportunity to learn about and appreciate different cultures.
(Credit: Terrapuri Heritage Village, Terengganu)
Terengganu islands offer a wide range of experiences for different kinds of travelers who are looking for island experience that fits their preference. From island-hopping to conservation projects to exploring traditional villages, there's something for everyone. Experience remarkable trip to any of the Terengganu islands with lush scenery, thriving marine life, and a glorious culture and heritage for memories that will stay with you forever.
Visit Tuna Bay Island Resort at Pulau Perhentian!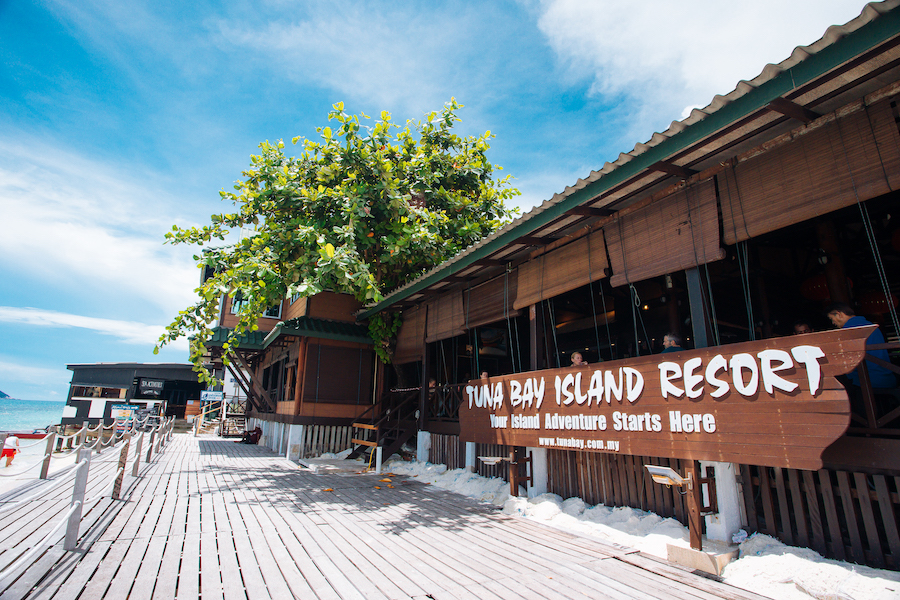 There are many things to do in Pulau Perhentian – snorkelling, scuba diving, fishing and more, as long as you got them planned out well.
Let us help to make the most out of your holiday – check out Tuna Bay Island Resort 2023 Promo & Rates where you can pick a package that suits your interest!
Planning Your Perfect Getaway: Terengganu Islands for Nature Lovers